Hi everyone!

[

]
My name is Legen...wait for it...Dove! LegenDove! and this, is obviously my page :D
I am also an Admin [thanks to Jae and Daniel] as of 24/03/14 and have enjoyed editing this wiki!
First of all I want to say the main wikias I will be editing are the HIMYM Wikia, HIMYD Wikia and the GTA Wikia, and I am a huge fan of all :D
Speaking of which, I really want to see this Wikia in particular grow. I started watching HIMYM regularly in October 2012, so I was pretty far behind everyone else at the time. I caught up, [since I have watched every season at least 7 times over, I have watched Season 4 10+ times] but I really want to be with this show at the start, and know everything about it :D
I also do the Weekly Round-up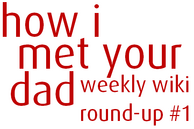 I'm sorry if I screw stuff up, I am new to editing pages so please tell me what I do wrong so it can be prevented in the future! :D
So like I said before, I am a massive fan of HIMYM. I have seen each episode at least 7 times over [litteraly] and can fully quote a few episodes. I have also made a HIMYM world in Minecraft, which I will be releasing shortly.
Also, I am a very experienced GTA player, can't really say much about it, cause it's just such a good franchise.

Well, that's me! If you have any questions, enquiries, or just want to chat, message me!

Thank you for reading :)
My favorite HIMYM episodes:
You know what? pretty much every Season 1 episode :D
Many more
My favorite GTA Games:
GTA V
GTA SA
GTA IV [EFLC]
2,181