Weekly Wiki Round-up #1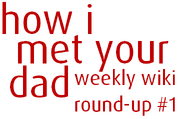 Hi, I'm LegenDove, an Adminstrator on HIMYD Wiki for those who do not know me, and welcome to my new, well, I guess you could call it a news segment. Every Thursday I will be creating a blog post like this to address the state of the wiki and talk about the things that have gone on for the past week.
First of all, I would like to congratulate everyone who has contributed to this wiki. Even if it is 1 edit, I thank you for your contribution and hope to see you on the Wiki for a long time. Speaking of which, I would like to welcome Dumblepops [a very active user over at the HIMYM Wiki] and Farhampton [new to Wikia it seems but has made some fantastic edits] to the WIki, make sure they recieve a warm welcome!
For those who didn't see, Derpster01 [Jae] made a blog post about regular chat meetings. You can check it out here. I encourage for all interested users to participate. If you can not make it, we might be able to work out a time suitable for you, so please do not hesitate to comment. I will write up a summary of what we talked about, how long we talked, and who participated at the end of every chat, so don't worry if you can't make it.
Well, that's it for the week. Expect updates during the week from our chat meetings and have fun editing!
-LegenDove